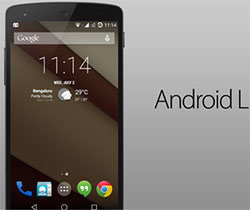 Google this year first time gave downloaded preview for the up coming Android L for only 2 device Nexus 5 and Nexus 7 (latest one). Nexus 4 and many other Nexus line product were left out.
Finally XDA developer community have made a working port for Android L which you can download it from :
github download
You will need to wipe the device and will lose data so make sure you have backed up your data. For more information can read here on XDA site.
Currently I have installed on my Nexus 4 and it is working great few minor bugs but it think will get fix soon. Planning to keep the same for by daily usage. Has made phone very responsive and fast.