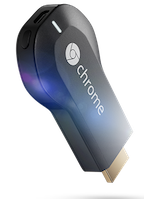 Yes Google Chromecast does convert your Normal TV to Smart TV which is worth minimum twice the price of normal TVs. Chromecast is a HDMI device like a USB which you connect to your TV and then you can transfer practically any playing on your Computer, Smart phones or Tablets.
Its very easy to setup just plug this to your TV HDMI port and give it power by usb or plug point. Install Chromecast App on your Computer / Smart Phones and it will detect the device in series of step by step guide. For more information on how to install you can visit http://google.com/chromecast/setup
With the latest update now you and do a screen cast of your Android device on TV. This has enable many new wonderful experiences like now you can play your favourite android game from your phone to your Larger Screen at your home your TV.
You can buy the device from http://www.google.com/chrome/devices/chromecast/ unfortunately you cannot directly buy it from India but then there is always ebay where you will find few people selling it.
Its a fun and cheap device and a must have. This first concrete steps of moving away from your cable guy :).