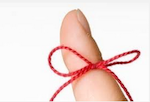 I was thinking how to incorporate Good habits in my daily life. After giving few thoughts I came up with this hack. Why not follow just one good habit every day so that it becomes routine in my life.
Example:
1. Monday: Patiences – Will always give answer politely to all without losing my patiences.
2. Tuesday: Grateful – Will be grateful to everyone and everything.
3. Wednesday: Optimistic – Will think positively no matter what happens through the day.
4. Thursday: Healthy – Will eat healthy
5. Friday: Smile – Will be happy and will greet everyone with a Smile.
6. Saturday: Proactive – Will be proactive and will complete all the things well in advance so that it will bring satisfaction and also it will make Monday less hectic too ;).
7. Sunday: Call a Friend – In this connected world its has become quite difficult to have a good and healthy chat with your friends. Either you don't have time or you just chat / whatsapp or message them .. Pick up the phone and talk to them if possible meet them in person.
This are few of the examples you can use and you can either repeat the same or add new one once old one incorporate into your habits. Try out this hack to improve and to incorporate new habits in your life and do let me know your feedback and suggestions in comments.