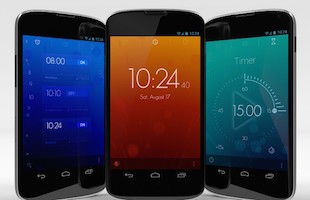 Timely is one of the beautiful Alarm Clock for Android, having perfect easy to use user interface and cloud integration for backup and synchronize your alarms with multiple devices. few of the features of the App are:
Just swipe from the edge of the screen and set the desired time by dragging a bar. Tap to make adjustments of 5 minutes.
Timely recognizes when you lift your phone and reduces the alarm intensity by lowering the volume.
Choose from our gorgeous color themes to match your very own style.
innovative Smart Rise feature transform waking up in the morning.
Use challenges with your alarms to make sure you are really awake when dismissing an alarm.
Recently company which developed this app is bought buy Google. This speaks volume of the quality of the App. Go check out the app in Play Store by clicking here.