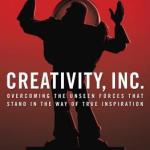 Creative Inc is written by Co Founder of Pixar Ed Catmull and President of Pixar as well as Disney Animation Studios co written with Amy Wallace. This book is the journey of Ed of how Pixar came in to existence and how he and the team manage Pixar culture. And hopefully how they will keep legacy of the culture of Pixar long after them.
Its quite easy to read and can be completed in max 2 weeks times. Ed talks about many ups and downs of Pixar history. Hard work and ability to change and be flexible to new ideas is what kept Pixar healthy and successful. Ed encourages company to be open to new ideas from any employee, every one should be given liberty to speak their mind freely without any fear. If that is archive you will get a very creative and healthy environment in any company.
Pixar just not talks about but gives priority to their company greatest asset their employees. They work hard to make sure their principal are safe guarded and its culture is preserved. The best part is at the end all the learning are listed in point format which is very easy to go through when you want to revisit the book.
You can buy the book from here and enjoy reading it.