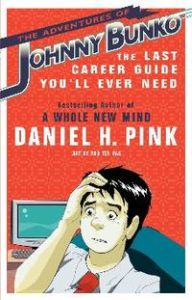 The Adventures of Johnny Bunko is book written by Daniel H. Pink. Its in a graphical comic format. Its very easy and fun to read which can be completed in one evening.
Its about a fresher who just joined the job named Johnny Bunko. Its his journey and important lesson impart to him which helps him achieve goals in his career.
Johnny gets 6 pieces of advice through the story of the book which are:
There is no plan.
Think strengths, not weaknesses.
It's not about you.
Persistence trumps talent.
Make excellent mistakes.
Leave an imprint.
Read it and enjoy your self. You can order the book: The Adventures of Johnny Bunko: The Last Career Guide You'll Ever Need