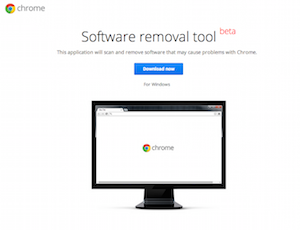 Finally google released a crapware removal tool for Windows. Which will remove all the crap ware and make your system clean
If you notice Chrome behaving strangely (for example, showing you unusual startup pages, toolbars, or pop-up ads you can't get rid of), it may be due to an unwanted program on your computer.
You may be able to fix the problem by downloading and running the Software Removal Tool. Think of this as a "factory reset" of Chrome. It restores Chrome's original settings and removes programs that affect its behavior.
Set up the Software Removal Tool
The Software Removal Tool scans your computer for programs known to cause problems with Chrome, and then offers to remove them for you.
Download
Visit the Software Removal Tool homepage.
Click the Download button.