AirDroid is similar to Continuity for iPhone. It works with wifi or you need to get register your device. Its quite easy to use. Just install the app and open it. It will show a IP base url type it in the browser.
Click accept on the device and you can control you Android from the browser.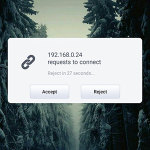 You can download / upload / delete files. You can type message from the browser and send them. You can view photos and videos store on the device. This are just few of the things you can do ..
Check out AirDroid today you can download it by click here.