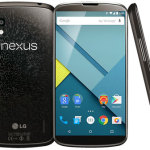 Google finally launched the factory image of Android Lollipop for Nexus 4.
You can download it from here and install it. This will format your device so better take backup first.
Steps:
1. Install Android developer SDK first so that all command tools are available to you.
2. from command prompt exceute following commands:
adb reboot bootloader
fastboot oem unlock
flash-all

3. Finally device will reboot it self. First reboot will take time so dont worry. It might take 10 to 15 mins for first boot up.
PS: Advantage of wiping the device is that you get clean install and many app which might have kept files behind after uninstall all of them gets clear up. Hence we get better performance from Nexus 4.