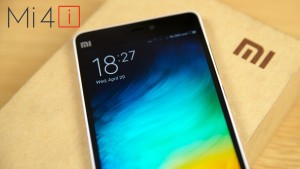 Xiaomi is currently 3rd largest mobile manufacturer after Samsung and Apple. It has come to know for high end phones for low cost price.
Xiaomi mi4i was launched for Indian market. Its a huge hit after mi3 launched a year ago.
Following is the specs on mi4i:
13MP Sony/Samsung camera
5MP front camera
5″ Sharp/JDI Full HD display 920 x 1080 resolution, 441 PPI
Fully laminated Corning® Concore™ glass
Snapdragon™ 64-bit octa-core processor
2GB RAM
16GB Flash
3120mAh all-day battery
2 x micro SIM slots
4G 3G and 2G supported
Electronic compass
Gravity sensor
Light sensor
Gyroscope
Hall sensor
Proximity sensor
GPS
The price point for this phone is only 13,000 Rs. At this price point it is one of the most attractive mobile to buy. Only thing which you will miss will be stock version of Lollipop and If you are in to NFC you will miss it. Still you can always install other ROMs for vanilla Lollipop android.  Have been using this phone now for months. The picture taken by camera itself is good enough to justify the cost of this mobile handset. You can buy this mobile from flipkat.com.