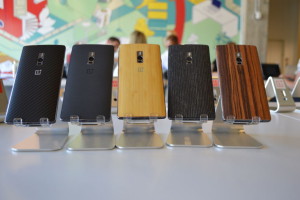 OnePlus is a Chinese company which started selling phone just 1 yr ago. They make high end quality phones at very low margin so mobiles are quite cheap compare to likes of Samsung or Apple. OnePlus has created a brand values and have a cult following in Asia.
OnePlus sells phone through invitation, which is one of the drawback as you need to wait a long time to get one in your hand. Another drawback is it doesnt use Cyanogenmod any more, it uses in-house OS called Oxygen built on top of Android Lollipop 5.1.
Specs:
64-bit Snapdragon 810 processor with 1.8GHz "Octa-core CPUs" (does have some heat issue will need to see how it deals with it)
Adreno 430 GPU.
4GB RAM
5.5-inch, 1080p display
13MP camera and 5MP front-facing camera
3300mAh lithium-ion polymer battery
Dual SIM SB
Fingerprint, Accelerometer, Gyroscope, Proximity and Ambient Light
Type-C connector for charging.
Currently it has started selling 64GB models for $389.99 to people with invitations. 16GB model is on its way in the coming months, pricing at $329.99. Oneplus 2 has changable back cover (like Moto phones) which you can buy additional at approx 27$.
Its a solid phone by specs with half the price of any premium phone. You can click here to get your invitation today.