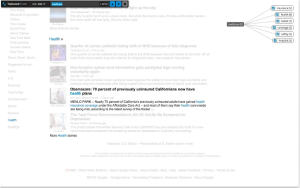 Twinword Finder a Chrome Extension does extactly that.
Twinword Finder searches a web page for relevant sections containing words that match or words that are related to your search terms. It also highlights what you are searching for so its easy to find and focus on.
You can also control the search distance to get more closely related words or more loosely related ones.
Get more specific by entering multiple search terms to match only words connected to all of them. The more you enter, the more specific your results are.
You can install the extension in Chrome browser by clicking here.