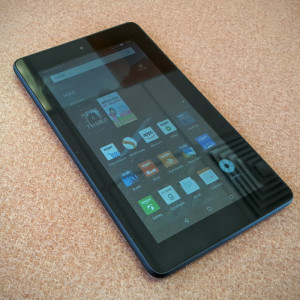 Kindle Fire 7 which was launched by amazon a month ago is a cheapest and functional tablet in the market. It is selling like a hot cake and it is always on back order or delivery is about 20 days time.
It comes with a 1.3GHz quad-core processor and 1GB of RAM. Apps and games pop open the moment the user taps the icon to load them. Swiping screens feels fluid and the tablet turns on quickly and boots cold in under a minute.
The battery life lasts every bit of the promised 7 hours.
It comes with 8GB of storage, however, they included a micro-SD card slot expandable up to 128GB.
The Fire comes with a 2MP rear camera that's not great. It's most useful for scanning documents or to capture quick moments that you want to remember but don't plan to display publicly.
People who like tablets but are on a strict budget will enjoy the Kindle Fire 7. Its a perfect gift for kids as the parental control on kindle is quite superior too.
Its available only in USA as of now.