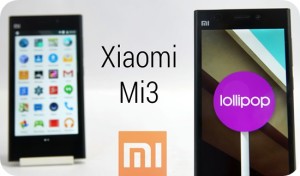 Xiaomi Mi 3W is still a good phone to use with a lot of fan following. Now you can install CyanogenMod 12.1 on it in following easy steps:
Make sure you have installed CWM recovery and boot into CWM recovery by pressing power and Volume Up button while booting up. (Install CWM recovery 6.0.5.1  Download here)
Step 2 – Download the required files:

Then copy both the above files to the root directory (/sdcard) of your phone.

Step 3 – Flashing Android 5.1  ROM on Mi 3 using CWM Recovery

Power Down the phone. Press Volume Up + Power button to boot in to CWM Recovery mode.
Go to 'advanced' and make sure 'active system' is 1. If active system is 2 then change it to system 1.

Select 'Wipe data/ factory reset' and confirm to wipe. (Wiping may take sometime)

Select 'Wipe cache partition' and confirm.
Go to advanced and 'wipe dalvik cache'.
Go back and select 'Install zip'. Select 'choose zip from /sdcard', then 0/ and then choose the 'cm-12.1-cancro.zip' file. Then install it to System 1.

Install Google Apps for Android 5.1 (GAPPS) – Go back and install the 'gapps-5.1.zip' file to System 1.
Reboot your phone by selecting 'reboot system now'. (Choose No when it asks to fix root permission and to root the device.)
You phone can take 15 to 20 min to boot up on first time, so dont get panic.

I have installed it on  Mi 3W (Indian version) and the ROM seems to be working fine, but remember its still in development. Thanks to all the hard work done by the developers. Only FM Radio is not working.
Once you have install CyanogenMod 12.1 its easy to update to latest nightly build just download the latest ROM and just install it. Also we are hoping to get CyanogenMod 13 soon for testing which will finally update our beloved Mi3 to Marshmallow Android 6.