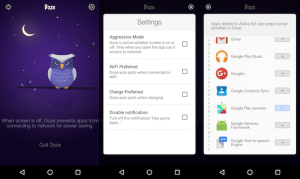 We all know that data is one of the biggest power drain. If you keep your data on all the day, apps can run out of full battery even without using your phone.
When screen is off, Doze prevents your apps from sending or receiving data without disabling your Wi-Fi or 2G/3G/4G data. In this way it adds more hours to standby time and makes significant difference to battery life.
Apps can resume normal activity when screen is on. You can always enable apps which you still wants to send/receive data even when screen is off.
Its quite good for all the android phones which still dont have latest Android M installed. Have tried it and yes it do help save battery life and also remove clutter of notification from your life when your phone screen is off.
You can install it from Google Play by clicking here. Also check out this awesome article on This Is How You Can Boost Your Phone's Battery Life!! by my friend Carla, I am sure you will enjoy it.