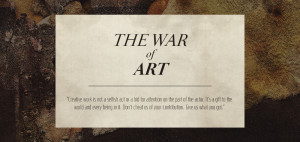 The War of Art is small and easy to read book written by Steven Pressfield. Its a no nonsense book about how to beat your procrastination and get the work done.
The book is divided in 3 parts:
1. What is Resistance?
2. Combating Resistance.
3. Beyond Resistance.
Its a must read book, its a practical book about how to get things done. It inspires you to start working on projects which you might have been thinking about it for a while, and keep on delaying it. Its a short book easily can be read in 4 to 5 days max. The tips and tricks showed in the book really goes a long way to help you. This is a keeper and should be read at least once a year so that we get recharged.
Buy your copy now by clicking here.