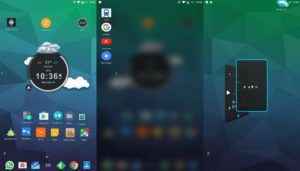 If you love to customise your phone check out TSF Launcher, once you get a hang of it, cannot live without it. The best part is it is free.
TSF Launcher is a brand-new 3D launcher that will subvert your concept of the mobile device home screen operations. It offers smooth, unique and customised man-machine interactive operation experience. You are allowed to define all the elements of the home screen freely and efficiently.
Some of the features are:
1. Fantastic animation transition effects. All operations, including deletion, addition, menu showing-up or vanishing, are provided with natural, glaring and butter-smooth animation transition effects.
2. Miraculous and effective 3D home screen switching mode and freewheeling home screen element layout mode. More than 10 independent layout home screens supported.
3. Unlimited dock bar. Ability to change its position, length and angle as well as to modify the size and the status (hidden or showed) of icons and folders in the dock bar. You can open the apps and the folders in the dock bar with wave-sliding mode.
4. More than 9 gestures supported for Android shortcuts, e.g. app launching, phone call, sms, as well as TSF Launcher shortcuts, e.g. home screen switching, status bar hiding, TSF Launcher side bar hiding.
If you need something new and flexible launcher this fits the bill perfectly. There is no grid to snap on home so you can arrange icons as you like it. This is my current driver for a week now and I am still exploring new features. It is free launcher so check it out today on Google Play.