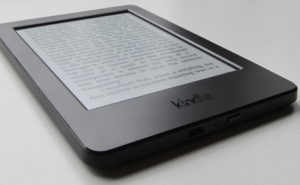 I read a lot of books, am a voracious reader. Hence I got Kindle basic version to try out, from one of my friends. Kindle is a popular e-ink reader from Amazon. Its highly integrated with Amazon so you can purchase books directly from amazon and read it on kindle. Basic Kindle reader comes for approx. 80$.
Following are the key features which I liked:
Touchscreen display: New kindle basic has touchscreen.
Easy on the eyes: There is no glare hence its easy on eyes.
Weeks-long battery life: According to your usage kindle can be easily used for more then 2 weeks time without charging.
Lighter than a paperback: Its quite light and easy to hold for extended period of time.
Highlights and notes: You can highlight or take notes in the books. All this is stored in My Clippings text file which can be accessed once connected to PC/MAC or from your kindle account.
In built dictionary: Highlighting any word, you can see the meaning of it.
Few things which it missed:
Backlight: In basic version there is no backlight hence reading in dark is not possible. This is available in Paperwhite version of kindle, but I think it should be added in all kindles as mostly we get good reading time at night.
Page refresh: You need to get used to page refresh on e-ink readers as its not as smooth as normal devices.
Ads: Basic reader has ads incorporated. You can remove that option but then you need to pay 20$ extra.
If you can spend few more, I would suggest you buy Kindle Paperwhite. You can check out all the kindle version here.