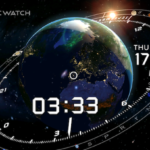 Cosmic Watch is a beautiful app. As name suggest it can show the position of the sun as well as the moon in the zodiac as well as the place and time of past, present and future solar eclipses and other celestial constellations. It allows viewers to view space from a realistic perspective based on their location.
If you are interested in astronomy and solar eclipses you will love this app.
We also have few FREE codes for both Android and iOS. So what are you waiting for download it now and use this promo codes on first come first basis enjoy ;).
You can download it from
Google Play Store:
https://play.google.com/store/apps/details?id=com.cosmic_watch.cosmicwatch
iTunes Store:
https://itunes.apple.com/us/app/cosmic-watch/id971231853?mt=8
Here is the codes for Android :-
SPVR7FLXC00JGLNTELFG8MK
R0LS4681NR17AU8GHBSKH8X
642YHYNGKK43MDWHA8K7CUL
NAYQ3X5V09AKGM98V1TDY62
DTD8A0DVHK9QNKBBZJ1F0GA
JA46WX41VFEMYKRPZ35402K
Here is the code for iOs :-
7YY4YX36N4AH
6WXA36PK7LAM
ANNKH6A6MMKH
Do check out and let us know your feedback.