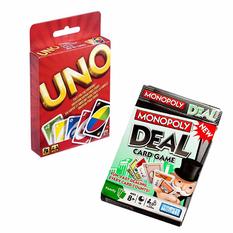 In todays world we hardy spend time with family. We are too busy with our own priorities. Kids are busy with tabs and online games.
One of the best way to spend time together and have fun is playing games together. Hence we have started playing card games in our house. We are currently playing  UNO and Monoploy card games. It is super fun, sometimes you do lose track of time in a good way. Card games are also easier to carry and play at any place.
Playing cards has done two things:
1. Stopped playing of games on tabs.
2. Full family can play together at the same time.
You too try it out and let me know your favourite card games.