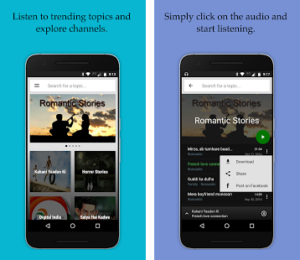 Headfone is an audio app where you can listen to Horror stories, Love Stories, Comedy, TED Talks, Inspirational Stories and lot more. Take your favourite stories offline to listen them anytime from anywhere. It is perfect replacement of radio without songs.
It includes all the pranks of RJ Raunak and RJ Naved and the famous stories of Neelesh Mishra and inspirational speeches of Steve Jobs etc.
You can either listen to them online or download them for offline use. Check out app by clicking here.