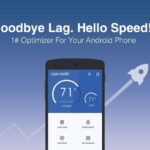 Clean Master helps you clean all types of junk files on your Android phone, which can help boost and optimize your phone's speed and performance, as well as preventing your phone from running slow and lagging. It can also free up your phone's RAM (memory) and storage space, you can enjoy using a faster and speedier phone with just one tap.
Clean Master also provides customized and professional cleaning for many social apps like Facebook, Messenger, WhatsApp, Instagram and many more. With our professional cleaner, you can free up much more space from these apps easily and safely without worrying about deleting the wrong files. It is free app too.
You can download and install the app by clicking here.