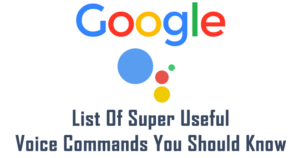 Google assistance is one of the best personal assistance currently in the market. Following are few of the most used voice commands:
1. Your personal translator
When you're traveling abroad, the most significant hurdle is language. Google Assistant allows you to quickly translate any sentence or word when asked.
Translate namaste in Spanish
2. Resolve anything with the toss of a coin
Google Assistant allows you to toss a coin coupled with sound effects to reveal those outcomes. Have fun.
toss a coin
3. Sing Happy Birthday
Tell Google Assistant to sing Happy Birthday and it will do so in a melodious tone.
Sing happy birthday
4. Call anyone from your contact list
Ever wondered how easy would it be to only utter the words Call (any name in your contact list) and see your phone calling it! It does make you feel like living a sci-fi fantasy. Google has made this possible. Enjoy the future.
Call boss
5. Use it as a quick dictionary
Do not understand a word and need to look it up? Most of us would end up launching a dictionary app or the browser to search for the meaning of something we do not know.
what is the meaning of opportunity 
6. Google Assistant can make you laugh
Want some inspiration to broaden your scope of humour or simply bored? Google Assistant can tell you a joke when you ask it to. Some of these jokes might be a turn-off but most are quite interesting and some do manage to tickle the funny bone.
tell me a joke
7. Let your assistant do the maths
Maths and the thought process that comes with it is quite a task, ain't it? Most complex calculations (especially the one involving multiple digits) are a calculator app task. Google assistant saves you the time and energy by solving your mathematical queries at your voice's command.
multiple 20 by 5
8. Check current weather
If you want to know current weather try this
What is the weather today
9. Open any app without touching your phone
Google assistant knows the apps on your phone. Whenever you want to access any app, you can simply command Google Assistant to open it for you.
open amazon prime
10. Google Assistant can remember things for you
You are bound to forget. Google Assistant isn't human and hence can remember whatever you tell it to. From file locations to important documents or keys, Google Assistant can be asked to remember anything and when your humane side forgets about them, just ask Google Assistant where are the keys or documents and it will remind you of the things you told it to remember. You have to try this out it is mind-blowing.
11. Convert currency
You can ask Google to convert any currency example:
convert dollar to rupee 
12. Know more facts.
You can ask Google to give you any facts like
How tall is the Qutb Minar?
What is the population of India?
Try this out this command, let me know what is your favorite Google voice command.
Just in case you have not installed Google Assistance you can install it from Google Play or App store.