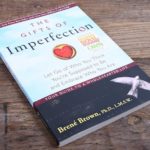 I've read more than my fair share of "self-help" literature, so I can assert with conviction that each chapter triggered numerous "ah-Ha!" moments for me.  She makes it feel and seem so easy!
The main message here is: Let go of your insecurities, expectations, shame, guilt, discomfort. Happy people are happy because they make themselves happy, they are the ones who think of themselves as worthy of love. You're IMPERFECT Embrace it.
Dr. Brown goes a step (or two, or five) beyond the common way of looking at or framing an issue to reveal the interconnectedness of elements that stall or sabotage our efforts to live a more satisfying life.
It is a feel good book which will make you happy along the way as you read it. You can get your copy from here.
Also, check out her TED Talk by clicking here.