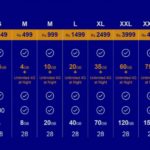 Reliance Jio is an upcoming provider of mobile telephony, broadband services, and digital services in India. Jio will officially launch their service to all from Sept 5th. Till 1st Jan 2017 there will be no cap on Data usage. All India Voice calls are totally free for any plan you choose.
Their lowest plan is of 149 Rs. validity of 28 days, but you will get just 300MB only which on 4GB will get used up in no time. By just making their tariff plan in such a way that most people interested in 4G have to pay over Rs 500 per month (will get 4GB of data usage), Jio will be making way more money than the current players. Most of the high value customers of other players will instantly port to Jio, and they maybe able to achieve a huge market share in next couple of years.
You, as a customer will get 2x to 3x more value for your money, yet Jio will make make as much profit as existing telecoms by pricing things differently. Currently even after 5 sept you'll be able to get sim and have to pay to use at least minimum plan. That is 149 Rs. even at name of prepaid you'll still have to pay this to get validity of 28 days.
If we exclude the unlimited night data and the wifi data which many of us may not have access to, then the price per GB of these plans will be
0.3GB for Rs149 = ~Rs 497/GB (Will anyone choose this for data?)
4GB for Rs 499 = ~Rs 125/GB
10GB for Rs 999= ~Rs 100/GB
20GB for Rs 1499= ~Rs75/GB
35GB for Rs 2499= ~Rs71/GB
60GB for Rs3999= ~Rs66/GB
75GB for Rs 4999= ~Rs66/GB
Did you see that even their highest plans doesn't go as low as their advertised Rs 50/GB rate.
When their apps, devices, and fiber services are added up, they are here to win multiple business verticals. And, at current stage, they are almost unstoppable. Let's hope other networks react to it and reduce or increase their value offer.
Check out Mukesh Ambani Speech: