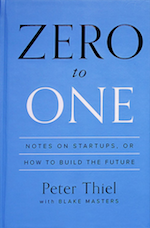 Zero to One: Notes on Startups by Peter Thiel is a short book (160 pages) on how to start up any business. This is one of the highly recommended book to read by many pandits. Its No. 1 New York Times Bestseller. It will change your prospective of defining a successful business.
Peter discuss how you need to be atleast 10x improvement on any problem you are trying to solve to have any impact on your target market. Peter gives very practical advice on what to look for and what to avoid. Its quite easy to read but you will need to read it careful to fully understand the concepts. Should take max 1 or 2 week of reading.
Try out you can check out the book at Amazon by click here.