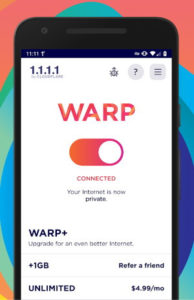 WARP is a mobile app designed for everyone which uses our global network to secure all of your phone's Internet traffic. Warp establishes a VPN connection on the device to route traffic through Cloudflare servers; this may improve performance and secures DNS and Internet traffic. Cloudflare suggests that Warp+ users see a 30% improvement in performance on average when loading websites.
The application works automatically once you have set up the VPN connection. It requires no registration. The main interface displays a huge toggle to connect and disconnect the VPN. The 1.1.1.1 app displays a prompt when you disconnect that lists the following options:
Pause for 15 minutes.
Pause for 1 hour.
Pause for this Wi-Fi.
Until I turn it back on.
All sites and services that I tried worked fine and without hitches. It needs to be noted that the app does not include any content blocking or protective features that other applications of its kind sometimes offer. The 1.1.1.1 application gives users no control over servers and regions that it connects to. In fact, there is zero information about the server and region that you get connected to while using the application.
The VPN is free to use and without bandwidth limitations, but it limits options and features and gives no control over regions and servers. The performance was excellent on the other hand and you get the benefits of being connected to a VPN.
You can download and start using WARP on your iOS or Android devices for free through the following links:
If you've already installed the 1.1.1.1 App on your device, you may need to update to the latest version in order to get the option to enable Warp.